Self Defense Madison, WI:
Reality Based Self-Defense Classes Combined With Calorie-Crushing Workouts
Instant Access to Our Schedule and Online Offer!
Enter your info for instant access to our Self Defense Madison class schedule and TOP SECRET online offer (ends: )
Don't worry we hate spam too, and you can always unsubscribe.
To those who want to be ALWAYS Prepared, NEVER Intimidated:
My name's Alex Andreev, and I'm the Owner of Journey Jiu Jitsu in Madison, WI. Our Madison Self Defense Classes have two goals:
Teach you the most effective,

TESTED

self defense system you'll EVER need to protect yourself and family
To get you in peak fitness condition to be always battle-ready and confident in the streets.
If you're like so many of the people who have come through our modern self defense program, there's a good chance that…

You're sick of feeling out of shape, hesitant, or anxious. You want to be confident and ready for anything.

 You've tried working out and eating right, only to find frustration, and little to no results…

Or maybe you realize that you need a lifestyle change, and you're finally ready to start eating right, and starting a fitness routine you can manage. You're ready for a healthy, lean, happy life.
Don't be Fooled by
FAKE Self-Defense
While most schools claim to teach "Reality-Based" techniques, they only focus at most 5-10% of their curriculum around ground techniques. This is hazardous considering 9/10 fights end up on the ground and stay there.
Journey Self Defense Madison teaches classes with no illusions about this. You'll learn the TESTED standing and the ground techniques that ACTUALLY prepare you for the reality and chaos of a real fight.
Supreme Confidence

, Focus, and Discipline

When you know how to handle yourself in any situation, you develop the kind of confidence and body language that tells people: DON'T MESS WITH ME. Plus, you'll feel great knowing you can stand up for yourself and your family no matter what happens. You'll get exactly that with our self defense classes in Madison, WI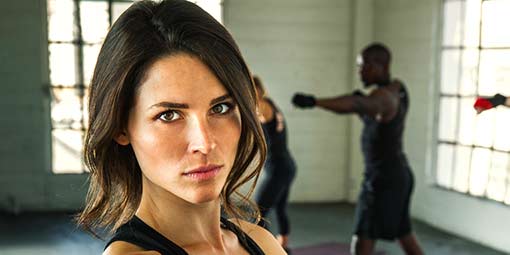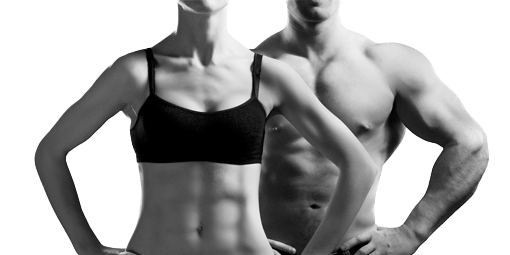 Burn Fat & Build Strength

While Having FUN

Are you training hard but finding it impossible to build muscle and burn fat?  Some people come to our Self-Defense Madison classes just for the fitness results.

Why? Because your entire body gets fit and athletic while burning hundreds of calories per session. 

That's because our combatives program leaves no muscle on your body behind. Your abs, arms, and legs all get stronger, leaner, and more sculpted – and the best part is… you're having a blast the whole time!
Beginners are our
FAVORITE
Never thrown a kick or a punch in your life? No martial arts background whatsoever? Perfect, you'll fit right in. In fact, 90% of our members were total beginners when they first came to our self defense madison classes. Madison, WI is a great community and our instructors will give you support, kindness, and help through every step of your training.
How do your classes compare to other self defense classes near me?
Don't take our word, read real reviews from real people just like you in Madison, WI and surrounding areas:
⭐⭐⭐⭐⭐
"These self defense classes are legit, and I freaking LOVE the stress relief after work. It dramatically improves my mood and I feel more confident to go to places alone."
⭐⭐⭐⭐⭐
"I originally found Journey Self Defense Madison Classes through an online offer and got the 3-class trial offer to just try casually. I couldn't predict that I would fall in love with  the gym, the people, and the amazing workouts! It is an inclusive, welcoming environment, and that's important to me. I feel right at home. I highly recommend Journey!!!"
⭐⭐⭐⭐⭐
"Amazing instructors, great people! I'm 41 and I feel like I'm in better shape than I was in my 20s! Brazilian Jiu Jitsu classes have helped me immensely in all areas of my life. Biggest thing is that I feel that I'm able to defend my wife, daughters, and myself if I'm ever in a confrontation. I plan to continue my training for a very long time."
Frequently Asked Questions:
"Who are Self Defense Madison Classes PERFECT For?
Business professionals looking to take things up a notch
Adults who want a FUN way to get back in shape or learn self-defense
Those looking to relieve stress after work
Military or Law Enforcement officers looking to add new skills and upgrade their training
"Who are our classes NOT Right For?"
Non-Madison Area residents (commute > 30 minutes to the gym)
College students with a heavy class loads and changing priorities
Professionals with heavy/frequent travel
Individuals unable to attend at least 2 classes a per week (on average)
"How much do your classes cost?"
Our drop-in fee is $20 per class, but we often run trial specials online. If you decide to sign up after the trial, it will work very much like a Yoga or Gym membership. We have 6+ different membership plans to fit every budget, and we go over those in detail when we sit down with you after your first trial class.
"What is Combatives Self Defense and How is it Different than say, Krav Maga?"
Krav Maga borrows techniques from other martial arts like Karate, Judo, Jiu Jitsu, and Kickboxing, but the problem with Krav Maga and any similar self defense system is that there is only a handful few ground techniques/escapes taught.
This is not realistic as 9/10 fights end up on the ground. Our combatives self-defense program based in Brazilian Jiu Jitsu without the uniform. We focus heavily on ground grappling and will make sure you can defend yourself both on your feet and on the ground.
"Will this be really hard on my body?"
Our self defense classes are a full-body work out. The exercise involved may challenge you at first, but we'll always encourage you to go at your own pace 🙂 So you may get a little bit sore at first, but the exercise should never cause injury or health issues.
"Do I need to be in shape or athletic? Do I need any prior experience?"
Not at all! Many of our current combatives self defense students NEVER did any kind of sports or martial arts prior to joining. Now, they're in better shape than most of their friends. So if you're not in shape or athletic, don't worry – we'll get you there in no time.
"Can I just drop by and talk to someone?"
We've got a small staff and we like to stay organized 🙂 In order to insure that there's someone to answer your questions when you show up, please let us know when you're coming by calling 608-416-1140. Otherwise, we cannot ensure you'll be helped and you may not be able to get into a class that day.
Are Self Defense Madison Classes Held Near Me?
Our classes for combatives self defense are located on the west side of Madison, WI. Only a short driving distance from Fitchburg, Middleton, and Verona, WI. Our address is:
3179 Muir Field Rd, Madison, WI 53719, USA
Who's Teaching Your Self Defense Classes in Madison?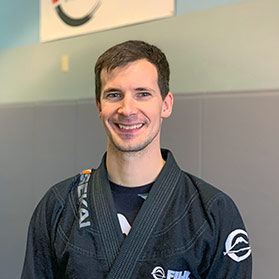 Coach Wade
Instructor
Now a 2nd Deg. Black Belt, Wade earned his BJJ black belt after 5 years of training and was one of the youngest to achieve it in the state of Wisconsin on December 1st, 2011.  He now Trains under Mark Vives of TAC Team, ranked #3 in the world IBJJF Rankings. Wade is also a Certified Personal Trainer.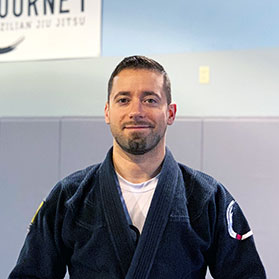 Coach Alex
Owner/Assistant Coach
As a corporate technical trainer and a student of BJJ for 6 years, Alex was quickly frustrated by how he saw Brazilian Jiu Jitsu being taught in gyms and on the internet. Teaming up with some of the most technical Jiu Jitsu players in the area, together they created an accelerated learning school that is getting rave reviews.
Journey Academy Money-Back Guarantee: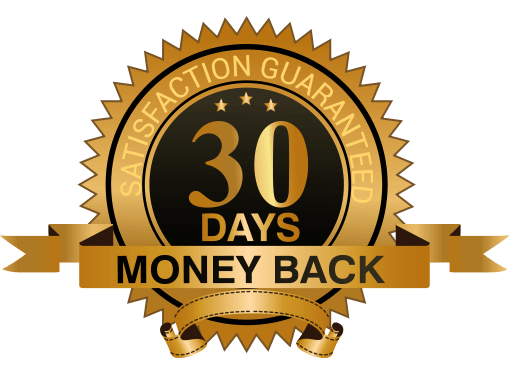 "My promise: If within 30 days of signing up for a trial or even after signing up for full membership, you decide Journey Combatives Self Defense Madison Classes are NOT the right fit for you, just shoot us an e-mail and I'll personally refund 100% of your money."
Ready to Change Your Life?
Enter your info now to get INSTANT access to our self defense madison class schedule and special online offer that ends THIS MONTH.