So, you're looking for a jiu jitsu school.
But, you're not sure where to begin.
You ask friends if they know a place to train. But they look at you, confused, and ask, "What's jiu jitsu?"
You signed up for a free trial at the school down the street, but that turned out to be a waste of time. Small mat space, dirty facility, instructor didn't seem to care about the students.
Choosing a jiu jitsu school can be a long term investment in yourself – a MAJOR purchase when you consider the membership costs. You wouldn't buy a home without checking out all the homes for sale in your area, right?
So, why settle on a second rate jiu jitsu school.
In this post, we'll go beyond any cookie-cutter advice by sharing with you a proven process for choosing the best jiu jitsu school in your area.
Let's jump in.
Step #1. Make a List of Jiu Jitsu Schools
Let's get started with a Google search for jiu jitsu schools in your area.
Type the keywords "jiu jitsu schools near me" or "jiu jitsu gyms near me" into Google's search bar.
Hopefully, the results returned more than one or two schools. If not, consider extending your search area.
At this point you're probably itching to take a look at each school's website, but before you do, let's make sure you know the different types of schools offering jiu jitsu training.
You're going to find either mixed martial arts or traditional jiu jitsu schools.
Here's a quick breakdown for each school.
Mixed Martial Arts
Mixed Martial Arts (MMA) schools offer training in a number of different disciplines, including Muay Thai kickboxing, karate, traditional boxing, wrestling, and Brazilian jiu jitsu.
Because of the number of different disciplines offered at a MMA school, you may end up paying more for a membership.
Also, you'll probably train MMA style no-gi exclusively, which differs from traditional jiu jitsu in many ways. For more on traditional jiu jitsu vs MMA style no-gi, you should read this post.
If your goal is to compete in MMA, add these types of schools to your list. No sense in paying multiple membership fees when you can get all the training you need from one school.
Traditional Brazilian Jiu Jitsu
As more people begin to realize the value of Brazilian jiu jitsu, traditional jiu jitsu schools are growing in popularity.
At a traditional jiu jitsu school, you'll be able to take adult jiu jitsu classes, no-gi jiu jitsu classes, and combatives self-defense classes. Being able to take all three classes gives you a greater chance at becoming a better grappler and jiu jitsu practitioner.
Also, you're not paying additional fees for disciplines like Muay Thai kickboxing when you only want to learn BJJ.
Now that you know the difference between the two types of schools offering jiu jitsu training, you should rank the schools in your area.
If you're mostly interested in training MMA, list these schools first. You can do the same if you're mostly interested in learning Brazilian Jiu Jitsu.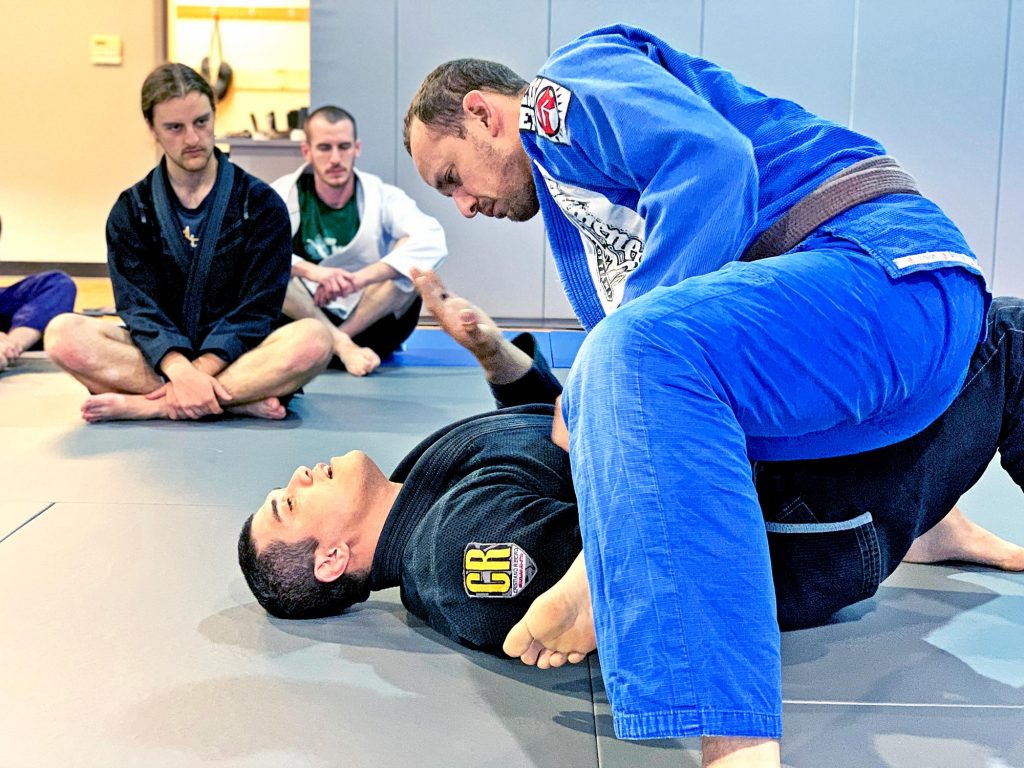 Step #2. Learn About Each Jiu jitsu School
You should now have a list of schools you're ready to learn more about.
Depending on how long your list is, you'll probably want to eliminate some of the schools. If the list is big enough, eliminate the schools where the drive time is greater than 20-30 minutes.
Next, let's look at the school's class schedule and the head instructor's bio to see if you can cross anymore schools off the list.
Class Schedule
Start with getting a copy of each school's class schedule. This'll be the quickest way to eliminate schools from your list.
There's no reason to waste time researching a school if you can't commit to attending at least two classes per week. The school's class schedule must work with your life schedule. Otherwise, you're not only wasting your time, but you're wasting the time of the school's instructors.
If the school doesn't have the availability you need, cross it off your list.
Head Instructor's Bio
Why does the bio of the head instructor matter?
Because, you're placing your fitness and learning goals in the hands of the instructors. You need to be confident in your head instructor's guidance, and you must fully trust them with your safety.
Although, you'll never fully be confident in the head instructor until you meet them and observe them in class, you should feel comfortable about their knowledge and experience prior to meeting with them.
So, how do you determine the knowledge and experience of a head instructor without meeting them?
In their bio, you should find the instructor's belt rank and lineage.
The head instructor of a BJJ school should be a brown or a black belt. While belt rank doesn't show the instructor's ability to teach, it does indicate a certain level of knowledge and experience.
If listed, find out who presented the head instructor with their black belt. Lineage is like looking at a family tree. It gives legitimacy to a black belt.
In Brazilian jiu jitsu, most black belts can be traced back to a Gracie family member. This doesn't mean a Gracie directly presented the instructor with a black belt, but it's definitely a bonus knowing your instructor is connected directly back to the pioneers of the art.
Finally, watch out for marketing gimmicks. Some schools are affiliated with famous BJJ world-champions . Schools will eagerly advertise these veteran athletes as their "Head Instructors" even though they don't teach at the school more than a few times per year. It helps to confirm with the staff which instructor is truly there teaching most classes.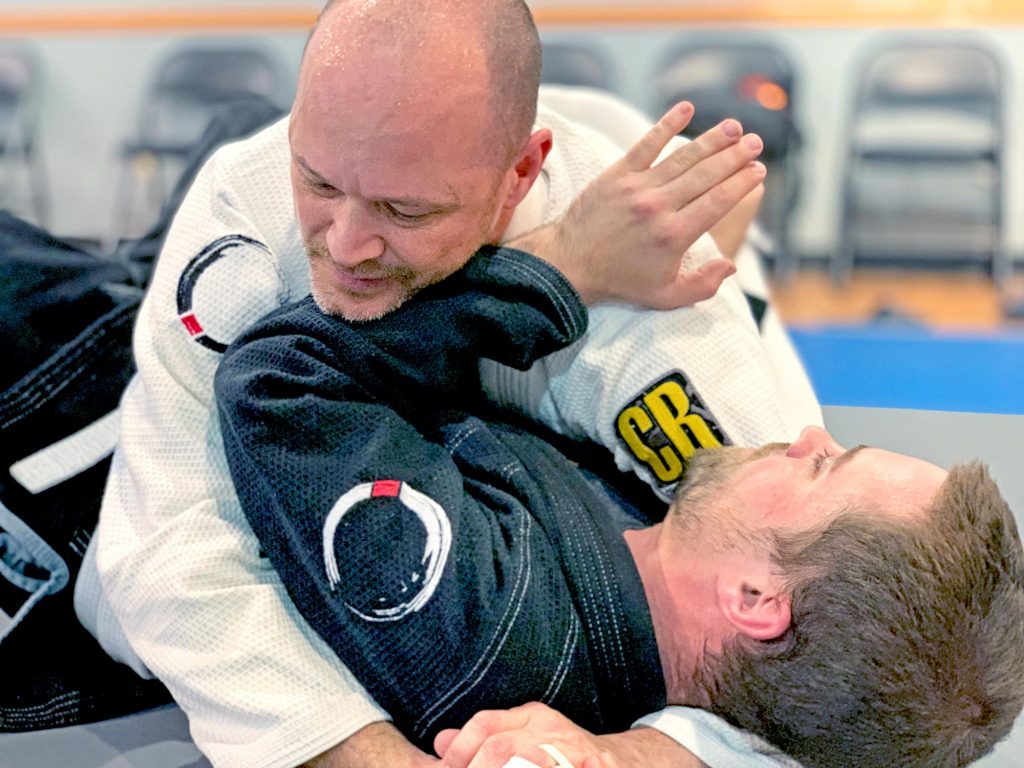 Step #3. Maximize Each Trial Period
Most jiu jitsu or MMA schools offer either a free trial or a discounted trial period, which allows you to attend anywhere from one to five classes before signing up for a membership.
So, take some time right now and schedule a trial period for each school on your list.
If you're in the Madison area, you can sign up for a trial period at Journey Brazilian Jiu Jitsu Academy here: https://journeybjjacademy.com/bjj-madison
During the trial period, you need to keep track of some observations that'll increase your chances of choosing the best jiu jitsu school.
Observation #1. First Impressions / Cleanliness
First impressions can tell you a lot about a martial arts school. Did they greet you, expecting you on the day of your first visit… or were they confused to see you? This foreshadows how organized the school is and how much they care about their students.
Was the mat space clean? How about the rest of the gym? Bathrooms? Infections can spread easily in a dirty training environment. Many schools advertise safety as their #1 priority, but is what you see really true to their promise?
Observation #2. White Belt Treatment & Culture
Unless you're a blue belt or higher, there's a good chance you're going to be overwhelmed during your first trial class.
So, observe the other white belts in class and watch how the instructors interact with them.
Start with the warm up drills. Do the other white belts in class seem confident in the drills? Or, do the white belts look at each other confused?
Next, observe how the instructors engage with the white belts. Are the instructors taking the time to explain details to the white belts? Or, are the instructors hanging around with the upper belts and ignoring the beginners?
Observation #3. Class Structure
A one hour jiu jitsu class is divided into three sections. During the first section of class, students complete the warm up drills. In the second section of class, the instructor teaches technique and the students drill. Finally, the last section of class is reserved for sparring.
A well balanced jiu jitsu class should be structured with 10 minutes of warm up drills, 30-35 minutes of teaching and drilling, and 15-20 minutes of sparring.
The time spent on each section of class shows how much the school emphasizes learning. If you find yourself sparring for 40 minutes, the school's not focused on teaching technique.
Observation #4. School's Focus
A jiu jitsu school's culture determines if you're going to fit in with the students and instructors.
Some schools are competition oriented while others focus more on self defense and the art of jiu jitsu.
If your goal is to compete in jiu jitsu, speak with the head instructor about the school's overall performance during the last tournament. Also, talk to students in your class and ask them about the level of competition at the school.
However, if you're not a highly competitive person or you have no desire to compete in jiu jitsu, then you may not fit in at a competition oriented school. You may find the instructor more focused on teaching how to score points or win advantages than on how to survive.
After observing the white belts, the class structure, and the school's focus, you're now ready to choose the best jiu jitsu school for your journey.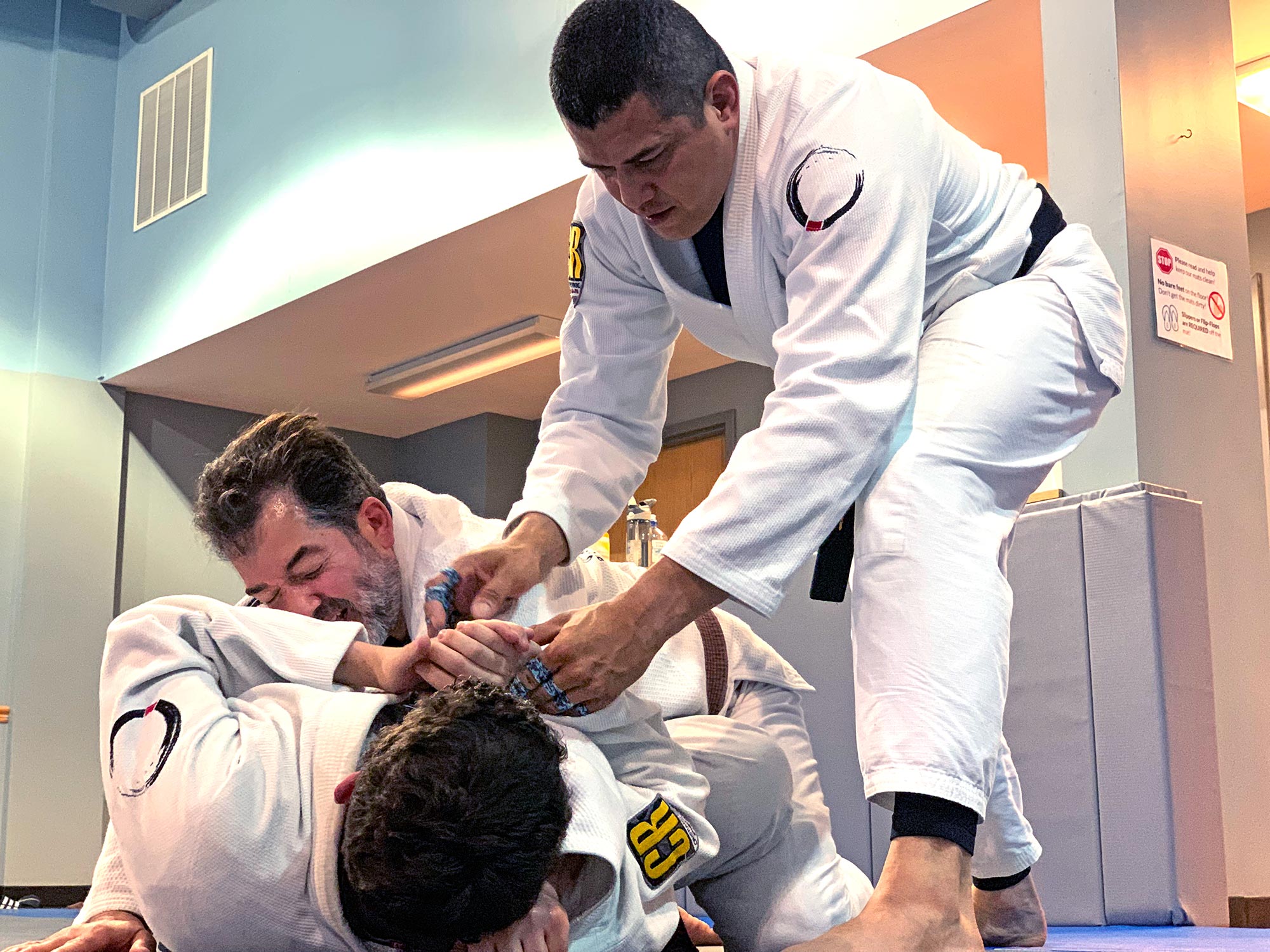 Your Home Away From Home
Perhaps it's a bit of a cliché.
But a jiu jitsu school will become your home away from home.
The people you roll with become like a second family. (And yeah, some of them you'll want to choke out!)
You're going to spend countless hours training, learning, and competing.
You're going to sweat and bleed.
But most of all, you're going to discover the greatest journey of your life.
A jiu jitsu school can also turn out to be a money pit. Your membership fees get paid, but your game never improves. You're going to class, but you're leaving confused. You're wanting to learn, but you're dreading class.
It's time to stop the wasted effort.
It's time to choose your dream home.