Journey Martial Arts Academy is extremely excited to welcome 5th degree black belt Cristiano Ribeiro for a beginners primer on Brazilian Jiu Jitsu on Friday, Nov 2nd @ 6PM. Register for FREE here:
https://free-jiu-jitsu-workshop.eventbrite.com
Coach Ribeiro brings a wealth of knowledge and real world experience with over 20+ years as a Gracie Jiu Jitsu black belt and a competitor.
Brazilian Jiu Jitsu is a combat art that specializes in ground-fighting and is used by the military and professional mma fighters. Here are just a few fundamental techniques you'll learn in this 1.5 hour workshop:
How to escape the dreaded Full Mount position – never allow yourself to be ground-and-pounded or choked!
How to use the powerful guard position to protect yourself from blows and set up submissions.
Learn distance-management techniques to avoid getting hit, even if you're up against a big brawler
Discover the biggest reason most self-defense systems set you up to fail by ignoring the chaotic nature of street fights and grappling
Learn a basic escape and an easy submission hold that works even if the person is twice your size and strength
That's just a small taste of life-changing skills that Cris has spent the last two decades perfecting as a seasoned world champion competitor in BJJ and MMA.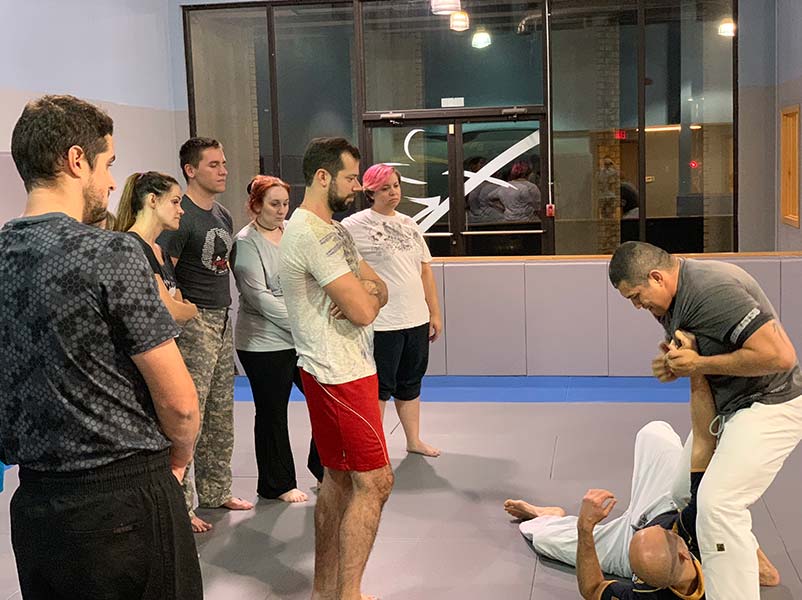 Cost:
What to Bring:
Comfortable gym clothes (shorts, t-shirt, athletic pants, we will be barefoot on the mats)
BRING A FRIEND! The more the merrier 🙂
Who is this perfect for?
Beginners, new to self-defense or martial arts
Groups of professionals for team building purposes
Anyone planning to travel to potentially unsafe parts of the world
Anyone who would like to improve their confidence
Martial artists with no exposure to ground grappling or grappling-based self defense systems
Smaller, less athletic individuals who want to learn how to use technique and leverage to overcome strenght
Who is this NOT right for?
Advanced Martial artists with years of primarily grappling experience (see our intermediate and advanced classes)
Military and Law Enforcement officers with higher level close-quarters combat training (this is a fundamentals class)
Individuals looking for weapons defense classes (this is covered in more advanced workshops)
Anyone who is unwilling to explore grappling scenarios as apart of their martial arts training.
Sign up before we run out of spots: